2023 Chevrolet Silverado
vs. the Competition

It's the rivalry of a century. It's the showdown of showdowns. It's the head-to-head that Maine truck shoppers have been waiting for: the 2023 Chevrolet Silverado vs. 2023 Ford F-150 comparison. These two trucks are both market favorites, but the team at our Chevy dealer near Bangor knows that not all pickups are created equal. We've seen the performance of the Chevy Silverado in Central Maine, and we can say with certainty that its hardworking powertrains, spacious cabin and range of options place this model head and shoulders above other new trucks for sale. To drive that point home, just check out the following Chevy vs. Ford comparison, which leaves no doubt as to whether the 2023 Silverado specs are truly class-leading.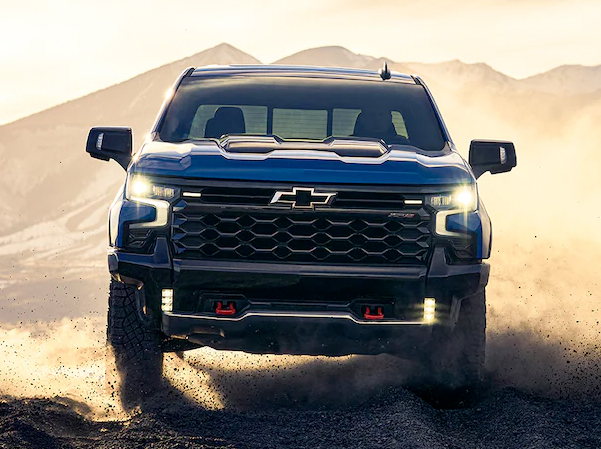 2023 Chevrolet Silverado

Compare 2023 Chevrolet Silverado Engine Options

Maine Chevy truck fans know that capability is the name of the game, and that the performance comes down to what's under the hood. That's why the 2023 Chevrolet Silverado is such a hit -- with multiple hardworking powertrains on tap, this new Chevy truck offers the muscle local shoppers are looking for. The Silverado engine options kick off with a potent turbocharged four-cylinder that boasts more horsepower than the base F-150 V6. From there, shoppers can upgrade to one of two Silverado V8 engines or even an available diesel powerplant -- an option that Ford doesn't offer in any F-150 trim. Smaller displacement engines with fewer cylinders are the approach at Ford, which is why local Chevy customers rightfully turn to the Silverado for the unmatched performance.
2023 Chevy Silverado 1500
Base Horsepower: 310
V8 Engine Options: 2
Diesel Engine: Available
2023 Ford F-150
Base Horsepower: 290
V8 Engine Options: 1
Diesel Engine: N/A
2023 Chevrolet Silverado

2023 Silverado Interior Features Compared

At first glance, it's clear that intuitive design and advanced technology were the guiding principles for those designing the new Silverado interior, a fact driven home by the 13.4-inch touchscreen that comes standard on most of the nine different Silverado trims. Shoppers will also appreciate the available 12.3-inch digital Driver Information Center that acts a customizable gauge cluster. Both options out-measure even the largest screens available on the Ford F-150 -- a fact that underscores the technological superiority of the Silverado. Factor in the standard Chevy Safety Assist suite of technologies, and it's no surprise that Bangor Chevrolet fans are so loyal to their favorite brand.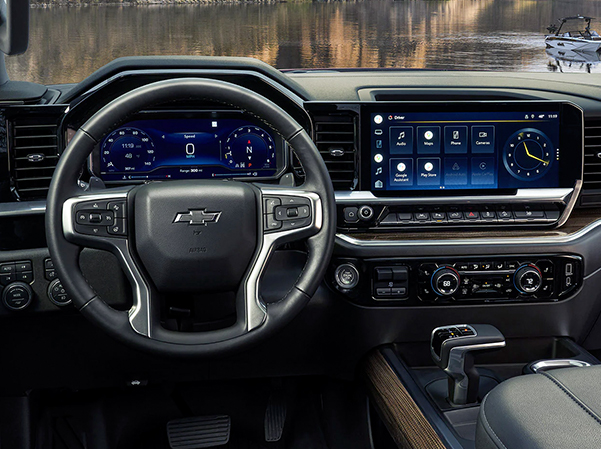 2023 Chevy Silverado 1500
Safety Suite: Chevy Safety Assist
Max Touchscreen Size (in.): 13.4
Driver Information Center Size (in.): 12.3
Available Trims: 9
2023 Ford F-150
Safety Suite: Ford Co-Pilot360™
Max Touchscreen Size (in.): 12
Driver Information Center Size (in.): 12
Available Trims: 8

Buy a New Chevy Truck near Me
When it comes to comparing the 2023 Chevrolet Silverado vs. Ford F-150, it's no contest -- the Silverado sweeps the floor with its arch-rival on account of superior interior design, in-vehicle technology and under-hood performance. So, when you need a new truck near Bangor that goes the extra mile, don't settle for less. Buy a truck that is at once class-leading and an American classic: the 2023 Silverado, for sale now at Central Maine Motors Chevrolet Buick.